MEDICAL PART 1
Dental Industry
Clippard has lead innovative solutions for a wide variety of applications in hundreds of industries. Dental applications desire the small size, high quality and low cost that Clippard provides. Whether it is a standard component or custom solution, dental manufacturers choose Clippard because of the overall value and superior customer service. Some applications are Ultra Sonic Systems, Delivery Systems, Air Polishing Systems, Air Abrasion Equipment, and Hand Piece Devices, just to name a few.
Blood Pressure Monitoring
.
Non-invasive blood pressure monitoring involves the external measurement of pressure and pulses. Clippard's proportional valve can provide the precise control needed for accurate measuring of the patients' blood pressure.
.
.
Cytometry
Clippard EV, ET and ES valves as well as Air Volume Tanks (AVTs) are used in Cytometry devices.The valves are used to control pinch valves regulating the flow of reagents as well as to control actuators for positioning of samples and other materials. AVTs are used for dampening supply
pressure surges to ensure smooth operation throughout the test.
Ophthalmic Surgery
Clippard EV and ET valves are trusted for use in Ophthalmic Surgery procedures.The valves are commonly used for controlling vacuum during cornea replacement surgery. The eye is an extremely delicate organ requiring acute care throughout the surgical procedure, so reliability and ease of use are crucial elements in this application.
.
.
Neuromuscular Rehabilitation Equipment
Clippard ES valves are used in exercise therapy devices that simulate natural motion to help retrain a patients brain after neurological damage. The device allows a patient to perform their current range of motion on their own. Once maximum self-extension is achieved, the device will engage a pneumatic actuator which then assists with the movement to full extension. The repetitive movement aids in regenerating damaged brain cells to allow the patient to relearn the movement and recover lost motion. Cycle rates, length of motion and force of operation can be programmed into the unit
for customized precision and control.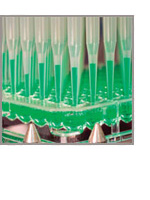 Analysis Equipment
A manufacturer of point of care (doctor's office) immunoassay analyzers utilizes a custom Clippard acrylic subplate that provides a mounting for ES valves along with sensors and servos. This instrument enables doctors to obtain an instant analysis for TSH, Free T4, and PSA. The valves control actuators that punch reagent bags during the test. Cost, compact size, mounting ease and reliability are the main reasons Clippard products are used in this application.